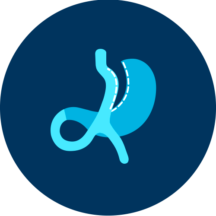 For some patients, diet and exercise may be enough to achieve their weight loss goals; for others, surgery may be necessary. Mini gastric bypass surgery in Mexico is a cheaper option that many patients consider. There are two types of gastric bypass surgery. One is the Roux en-Y, or regular gastric bypass. The other is the mini gastric bypass surgery, also known as single-anastomosis gastric bypass.
Our surgeons in Mexico generally recommend the mini gastric bypass due to its safety, simplicity, cheap cost, and effectiveness. Read on as we will explain the specifics of this surgery, its advantages, and cost.
The Procedure
The mini gastric bypass surgery involves shrinking the size of the stomach and bypassing the most absorptive part of the small intestine, the duodenum. To do this, we divide your stomach into two pouches. The smaller of the two pouches becomes your new stomach. From there, we connect this new, smaller stomach via a gastric tube to the small intestine approximately 5 feet from its starting point.
Single Anastomosis bypass surgery is a restrictive and a malabsorptive procedure. By reducing the size of the stomach (restrictive), the amount of food you can take in will also be reduced, and because the gastric tube will bypass the duodenum, less food, nutrients, and minerals will be digested (malabsorptive). As such, you will lose weight.
We perform this surgery laparoscopically, meaning we will only make four small incisions on your abdomen. Compared to the regular gastric bypass, this surgery is as effective but is also less invasive, requires less surgery time, and you will recover faster. The surgery itself lasts less than 90 minutes. You will stay 2 nights in the hospital for observation, care, and recovery. After the Hospital discharge a third night stay in Monterrey is recommended; on the fourth day you will have a quick follow-up consultation before you head back home.
Afterwards, you can return to work in as little as 5 days. You can resume light physical exercise activity after 2 weeks. We recommend that you do not start an intense workout regimen until a month post-surgery.
Benefits of the Mini Gastric Bypass Surgery
You can enjoy enormous benefits after you undergo the cheaper mini gastric bypass procedure in Mexico. Previous patients report that they lost 60 to 80 percent of their excess body weight within 12 months after surgery. To see these results, you must follow the recommended nutritional and supplement guidelines. Nonetheless, the rapid weight loss will be accompanied by a tremendous improvement in your cardiovascular, digestive, and overall health.
Mini gastric bypass surgery from us is a low-risk operation that is as effective as a regular bypass surgery. It produces great weight loss without compromising nutritional status. Moreover, this surgery involves less post-operative pain. Also note that unlike other weight loss surgeries, the mini bypass is a reversible procedure.
Full recovery from your mini gastric bypass surgery is about two weeks; however, this may vary from patient to patient. You can be back to work in as little as 5 days. As mentioned previously, we require patients to remain in Monterrey for at least 3 nights after their surgery. You will spend the first two nights at the hospital and the third night at your hotel. You will be able to return home afterwards.
Cure diabetes with the mini bypass surgery
You will undergo a life-changing transition with considerable weight loss. Also, you don't have to be concerned with any major complications. On the contrary, this is a surgery that will help improve your health. It is an ideal surgery option recommended for patients that suffer from Diabetes; in most cases Diabetes Type 2 can be reversed with this surgery, blood sugar levels tend to go back to normal after this procedure and medication can be reduced or even stopped completely.
Am I a candidate for the Single Anastomosis Surgery?
Mini gastric bypass surgery is not for everyone. As such, we want to learn a little bit more about you to make sure this surgery will be right for you. Please click here to contact us to start the process today!
To be considered for this surgery your body mass index (BMI) should be on or above 33. Click here to calculate your BMI. Additionally this surgery is ideal for patients that can are dealing with diabetes or that have a habit of ingesting high amounts of sugar, either in the form of food or in beverages (alcoholic and non alcoholic). Mini gastric bypass surgery in Mexico will help you prevent suffering from diabetes and or weight gain in the years to come after the procedure, while also being cheaper than surgery in US hospitals.
Pricing information
Click here to learn how we help you have an easy and worry free weight loss surgery experience in Mexico.