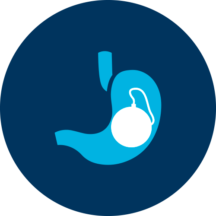 The gastric balloon, sometimes referred to as the intragastric balloon, is a weight loss medical device. The balloon that we use and recommend is the SPATZ3 adjustable balloon system, made of soft silicon, which is inserted into the stomach to reduce its capacity. This is a simpler method of achieving weight loss; it is a route taken when diet and exercise has proven to not be enough. Moreover gastric balloon weight loss surgery in Mexico, is also a less expensive alternative to surgery in the US for Houston Texas patients and others from around the nation.
This procedure of the balloon is only a temporary solution. As such, removal of the balloon is mandatory within 12 months. To ensure a successful weight loss, this procedure requires a commitment by the patient in applying the recommended dietary changes and an exercise routine to achieve results. Because of its temporary nature, the gastric balloon procedure is sometimes the first step to a weight loss surgery.
Read more to learn about the gastric balloon weight loss procedure in Mexico for residents of Houston and the US. have a look at the benefits and guidelines that determine who would be a good candidate for this procedure.
The Procedure
Via endoscopy, we insert a deflated balloon through the mouth and down the esophagus. Once in the stomach, we inflate the balloon. The balloon reduces stomach capacity and helps you feel full sooner.
The procedure is relatively quick—in most cases not even lasting any longer than 30 minutes. No incisions are necessary. You will not have to stay in the hospital for any post-treatment observation, we recommend that you stay one night at the Hotel and on the next day after your balloon placement you can head back home. Rest is recommended for the first couple of days and you can resume your normal activities as soon as on the third day.
Risks of this procedure are minimal. There is a low chance of complications and the side effects usually only include stomach cramps, nausea, and vomiting. However, this usually occurs on the first days after the procedure and eventually subside.
Benefits of the gastric balloon
The gastric balloon weight loss procedure in mexico is a great alternative for more invasive and expensive surgical options, such as gastric bypass surgery. The balloon will help you jump start on dietary and lifestyle changes. Patients report losing 20-30% of their excess body weight while they have the balloon in their stomach.
Sometimes bypass surgery or gastric sleeve surgery may not be an option at the outset of your weight loss journey. A key reason might be because of the state of your physical health. However, some consider the gastric balloon to be a key first step towards weight loss surgery later. As mentioned, the balloon will help you lose weight, change your diet, and lead to better health outcomes.
The biggest benefit of all is that the gastric balloon is temporary. Therefore, this is not a permanent change to your body. Removal of the balloon must occur within 12 months. You will not have to endure any changes to your stomach and/or your small intestine. As such the gastric balloon is temporary you also need to make sure your weight loss is not also temporary, you will need to maintain healthy nutrition habits and a healthy lifestyle to keep the weight off after the balloon removal.
Who is the gastric balloon right for?
If weight loss surgery is not advised or diet and exercise has not been enough, the gastric balloon weight loss procedure in mexico may be right for you and residents of Houston and other neaby US cities. Ideal candidates are those that have those issues, along with a body mass index between 27 to 32. For patients with BMI's of 33 and above, the balloon can also be an option that could help them lose weight; however, the chances of gaining the weight back after the removal are high if you don't keep a healthy lifestyle. Click here to calculate your BMI.
Please note
Keep in mind that the gastric balloon is not the end-all, be-all when it comes to weight loss. While the balloon will be extremely helpful, you must exhibit discipline in your nutritional and exercise habits. In other words, the gastric balloon represents only part of a complete effort by you to lose weight and change your life.
Pricing
We have packages starting at $2,800 for the gastric balloon insertion weight loss procedure in Mexico, this is far less expensive than procedures in Houston or the US. However, it does NOT include balloon removal and/or balloon refill.
Please contact us for more information about this procedure and scheduling.